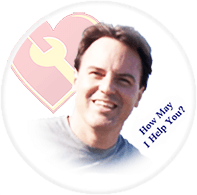 • My goal is to help educate you on prevention (repair is just part of my actual service).
• Flat rate. Whether I spend 2 hours or 200 hours—no surprise charges.
• Friendly and expert help by phone and follow-up until the matter is fully resolved.
• Money back guarantee.
• WordPress website security plugin installations included free.
• Full security and recommendations report provided.
• I never delete files. All hacker files will be moved and backed up for review.
• I will start immediately in fixing your website—no waiting.
Just a Few of My Favorite Links Related to Website Security
• Just a few more HackRepair testimonials
• We Now Interrupt Our Regularly Scheduled Programming
• My Website Was Hacked and Flagged by Google
• Verified Hackrepair.com Customer Service Testimonials
• Website Hacked? Should You Fix It Yourself Or Hire An Expert To Clean Your Site?
• Talking Hi folks. This is Jim Walker with TVCNet and Hackrepair
• Can Security Be Bread and Butter of a Hosting Provider?
• I want to get rid of "This site may harm your computer
• My web site was hacked – Now what do I do?
• Where is malware on mywebsite and it's not correct to detect openX script for malware.
• site is banned again but not even Google found anything
• Google detected site is clean after malware attack, but still black-listed
• How to monitor your website for hacking or malicious content using Google Alerts
• HackRepair.com Security Tips and Hack Notes
• /tmp/wp_inc or Not Your Typical WordPress Attack
• How to choose a web hosting company for a more secure WordPress website
• Jim Walker and HackRepair on SiteJabber
• Recently our informational site, was a victim of a vicious malware attack.
• I recently had been notified our informational web site was a source for malware.
• Jim Walker has saved the Fish Pond family website twice in the last year…
• Yuck!!! "He kept me calm throughout it all and within fours, it was done."
• Jim Walker talks about SSD hosting at How to speed up your WordPress website, WPwatercooler
• From Hacked to New Hosting to Happy
• I want to thank Jim Walker of www.hackrepair.com
• FooTable Responsive Tables: A Before and After
• Jim Walker – The Hack Repair Guy
• A fun little article poking fun at the Ashley Madison security award
• I've developed a fun new WordPress plugin. The Hack Repair Guy's Plugin Archiver plugin
• Love gifts from customers! A nice unwrapping video of a client appreciation gift. Yum!
• I wrote this–WordPress Troubleshooting and How to Fix Common Errors
• Another new WordPress plugin from yours truly, "The Hack Repair Guy's Admin Login Notifier"
• A local WordPress Meetup group presentation, "How to use Cloudflare to better protect your website against denial of service attacks"
• A WordCamp San Diego presentation, "WordPress Lets Me Do It, by Jim Walker The Hack Repair Guy"
• A nice mention over at WP Buffs, "What To Do If Your WordPress Website Is Hacked (Step-By-Step Guide)"
• A nice mention over at WordPress.org, "How Do I Fix A Code Injection Hack?"
• A nice mention over at Jbq.net, "How to Remove Hacked URLs from the Google Index"
• I helped sponsor WordCamp LA 2017 this year. Fun times! #wclax
• Wrote a nice article on How to Lock Hackers Out of Your Website Today
• Another nice video service testimonial, this one from Michael McAleenan
• One of my favorite clients' mentioned my service in a nice article on website security, "Moriee is back up and running! what to do if your site is hacked"
• How to Lock Hackers Out of Your Website Today
• YellowPencil – Visual CSS Style Editor Zero-day Exploit
• Why Hackers Target Nonprofit Websites and How to Defend Against It
• How I Recovered Within 24 Hours When FOUR of my WordPress Websites Got Hacked